Discussion Starter
·
#1
·
I wasn't really fussed about this, until I read a post by someone on Pistonheads:
I'm not sure how the system works on the Duster, but for off road it's not about stability, but promoting grip. The difference is off road you don't want it to kill power, all you want it to do is brake a spinning wheel to force it to apply load to the one not spinning, but you want to retain control of the throttle.
For example: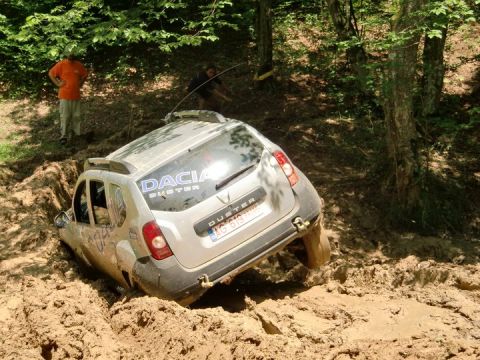 With an open diff and no TCS the rear wheel off the ground would spin and the one on the ground would not move at all. With an IFS/IRS vehicle with not huge wheel travel picking a wheel up will be common off road.
An off road TCS will allow the wheel in the air to spin, but by braking it, it'll force the diff to send hp (due to the loading) to the wheel not spinning, forcing it to turn.
Where this is important is, if you had the diagonal front wheel in the air too (common off road, called an axle twister) then each wheel off the ground would spin, while the two on the ground wouldn't move and you'll be stuck.
Even with all wheels on the ground, if its loose or slippery then you may not get all 4 spinning, but rather you'll end up with 2wd, one wheel per axle being driven.
Locking diffs prevent this, but are expensive and potentially break things. They also ruin turning circles and can't be used at higher speed. Off road TCS is a brilliant invention and I'm pleased the Dacia can be had with this feature.
Interesting reading huh? Assuming this is all correct, it's a must have feature in a way.