To purchase a DaciaForum.co.uk window sticker, please visit our shop:
http://www.petrolmedia.co.uk/clubshop/13-daciaforumcouk
Please allow a couple of weeks for delivery.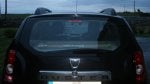 Fitting Instructions:
Fitting Instructions for optimum adhesion
• Clean surface thoroughly in preparation for Decal
• Heat sticker and surface i.e. with
hairdryer
• Peel Back Backing Paper to reveal decal
• Place in desired location being aware you cannot re-use after placement
• Flatten and rub Backing paper with plastic card i.e. bank card
• Pull backing paper away to reveal finished product.