Discussion Starter
·
#1
·
After changing my oil, the other serviceable item due on the first service was the cabin filter.
DISCLAIMER:
IF YOU CREATE A PROBLEM AFTER FOLLOWING THIS GUIDE YOU MAY VOID YOUR WARRANTY.
Let me start by saying this job has been made needlessly difficult by the people who make these cars and this is the worst cabin filter job I've ever done, which is all the more reason for doing it myself and not having someone else screw it up. Having said that, its definitely worth doing yourself because it only requires one tool (and lots of wiggling and fighting the carpet)
.
The cabin filter is located in the front passenger foot area near the foot vent up behind the centre console.
That black thing sticking out of the cut out in the carpet is where hot/cold air is blown at your feet.
Above the vent is a plastic nut that you need to unscrew to get the carpet out of the way.
The stud is a plastic thing that is just push fit into some part of the car and might fall out, which is what happened to me. It shouldn't really come off but this kind of thing is expected when dealing with plastic fittings.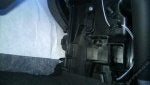 Here you can see the cover for the filter, as you can see I have started removing the lower screw.
I used this Torx screw driver, a short stubby screw driver will be better in hindsight.
Cover removed:
Pull the old filter out
and note which way the air flow arrow is pointing
Along with any leaves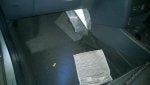 Genuine new vs. old: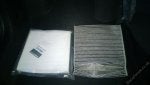 Interestingly, both new and old filters have Renault, Valeo, Mann Filter logos. Manufacturing date and "Made in Germany" on them. So now you can tell badge snobs your Dacia has German parts in it haha
. Also, the sealed packaging has a sticker that says Renault Group, a part number and Made in Romania on it, so the filter must be German and the plastic bag is Romanian.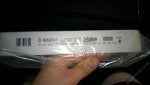 Note the air flow arrow on the right
At this point, get a vacuum cleaner and clean and leaves or whatever that might have come out and fallen into the carpet/insulation. I also removed another clip for the carpet near the bonnet release but I didn't get a photo.
next post cont.