Hi,
I have a Logan MCV 2017 TCe 90 (0.9 litre). I've had the first service completed by an independent mechanic but the service indicator is stil showing on the dashboard. A typical ignition sequence goes like this:
Turn ignition key
Right-hand dashboard display (multi-function) shows a car icon and a spanner icon
Left hand dashboard display (rev counter) shows yellow engine management light
Right-hand dashboard display changes from car/spanner to whichever display I've previously chosen (total milage, trip milage, set tyre pressure or outside temperature).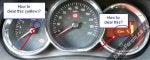 I'd like to reset the service indication. Things I've tried:
1) The "three-brake-pedal" technique:
Engine is off, no pedals pressed then, within 10 seconds:
Turn ignition to postion 2
Press-and-hold accelerator pedal
Press-and-release brake pedal 3 times
Release accelerator pedal
Turn ignition off
2) The "wiper stalk button" technique:
Engine is off, no buttons pressed then:
Turn ignition to position 2
Press-and-hold the button on the end of the wiper stalk for at least 5 seconds (that's the button that cycles through the display modes)
Release the button
Turn ignition off
So far I haven't been able to reset the service indication so I was wondering if there was a new trick for the 2017 Logan MCV? Any help appreciated thank you.